Broad-spectrum wound care is associated with managing different kinds of issues that may arise in relation to the wound. This includes the diagnosis of types of wounds, prescribing proper wound care dressings as well as wound infection treatment.
Wound pain management is an important part of healing that directly affects patient comfort. Maintaining a healthy environment in and around the site of the wound can shorten wound healing time.
Pain in wounds can be due to the following reasons –
 

Nociceptive pain

– This kind of pain arises due to damage in the tissue at the wound site. Described mostly as throbbing or aching sensation, the nerve endings in the damaged tissue pick up sensory signals from the

wound and send them to the brain.
Tissue damage can be caused due to Ischaemia, which happens to an insufficient supply of blood to the wound site. This results in a lack of supply of oxygen, which is extremely essential for the wound healing process. Oedema, or fluid retention can be another cause of tissue damage at the wound's anatomical location.
Nociceptive pain is marked by swelling and redness at the wound and sensitivity to touch.
Neuropathic pain

– This type of pain occurs due to damage to the nerves in the

wound site. It is described as burning or tingling pain, much like prickling with needles.
The wound is highly sensitive to touch and painful sensations come up even without any kind of physical trigger.
Wound care specialists use different types of pain scales to determine the intensity and prescribe wound care products for pain relief. Pain scales are both numerical as well as categorical.
Numeric pain scale – This kind of pain scale is used to enable patients to rate the intensity of pain between 1 and 5 or 1 and 10. The higher number represents worst possible pain and the lowest represents no pain at all.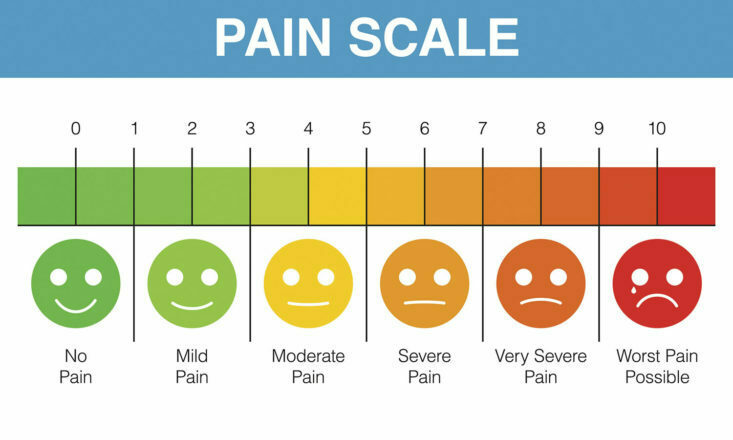 Categorical pain scale – This kind of scale uses non-numerical symbols for the determination of the intensity of pain. Symbols may include smiley faces that help patients identify with their level of pain.
Wound infections due to microbes can be the cause of a lot of pain for patients. The bacteria or fungi in the wound release chemicals that damage the tissue, which in turn causes pain. This condition is mostly preventable with proper care and the use of wound care products that aid healthy healing.
Gauze and adhesive-based wound care dressings are known to cause pain. This occurs mainly during the removal of the wound dressing due to the ripping of adjacent skin. The skin surrounding the wound should be supported with creams or other material to prevent trauma.
Prevention of wound pain can be done by adopting simple measures during the care regime.
Enabling moist wound healing aids quick and healthy recovery. Optimum moisture should be maintained at the wound location at all times. Chronic wound exudate management is essential to prevent microbial infection and in turn deep tissue damage.
Advanced Wound Care (AWC) dressings based on biomaterials, hydrogels, silicone, etc., help to heal chronic, heavily exudating wounds without causing pain.
MaxioCel is an Advanced Wound Care (AWC) Dressing based on the biopolymer chitosan that helps chronic wound healing quickly without pain.
MaxioCel is useful on different

types of chronic wounds

like foot ulcers, bedsores, suture line infections, burns, etc

.

It is extremely easy to apply and remove, and ideal for wound care routines at home (with instructions from a specialist).

MaxioCel also has analgesic properties that relieve chronic wound pain for a  comfortable recovery. It also aids scar improvement.

It helps in the absorption of

exudate from wounds

and maintenance of optimum moisture at wound location.

It is a microfibre dressing with inherent anti-microbial properties to keep the wound

protected from infection.
 The number of wound dressings required as well as the frequency of change depends on the severity of the wound. It is always advisable to consult a wound care specialist on a regular basis while nursing a chronic wound. Visiting a wound care center for dressing changes is important, especially while using a new wound dressing. Wound care at home requires following the consultant doctor's instructions closely to keep the wound clean and infection-free.
#woundcare #heal #woundhealing #MaxioCel #diabeticfoot #venousulcer #health #wound #nursing #woundcarenurse
Disclaimer: Issued in public interest by Axio Biosolutions Private Limited.