Formal wound care plays a crucial part in the treatment of chronic wounds. However, the global COVID-19 crisis has caused a disruption in the accessibility to wound care services. Lack of access to regular services like home wound care has led to patients suffering from pain and discomfort.
Patients that live at large distances from wound care clinics and other facilities have to travel extensively even for a change of wound dressings. This can lead to infection of the wound due to exposure to dust and germs while traveling.
It is important to take care of open wounds to prevent the occurrence of infection from microbes.
The most common reasons for the occurrence of chronic wounds are diabetic foot and peripheral arterial disease (PAD). Both of these result in a compromised supply of blood and nutrients to the wound site. Chronic wounds require routine professional care to prevent complications.
Wound care at home has become more important now than ever. A doctor prescribed diet along with careful, instruction-based cleaning and dressing of the wound site are essential when professional services are not available.
The following is a basic, step-by-step guide to taking care of chronic wounds at home – 
1.Wash hands with soap and water
Before touching the wound site, it is important to wash hands thoroughly with soap and water. This is to be done to prevent infection on the wound from microbes on the hand.
2. Put on gloves if available
Wearing gloves is added precaution since it checks the spread of germs both ways, from the hand to the wound and vice versa. It is important to use only medical grade surgical gloves, found at the local pharmacy, for wound care procedures.
3.Remove the tape over the dressing
Remove the old dressing by gently lifting and peeling off the old tape. This is to make sure that the skin underneath does not rupture and start bleeding due to rash removal of the wound dressing.
Gently clean the wound with circular motions from the center to the outer edge. Then pat dry. Apply medications prescribed by your doctor, if any. 
Use wound care supplies prescribed by a certified caregiver. Place the dressing gently over the wound. Ensure that the entire site is covered.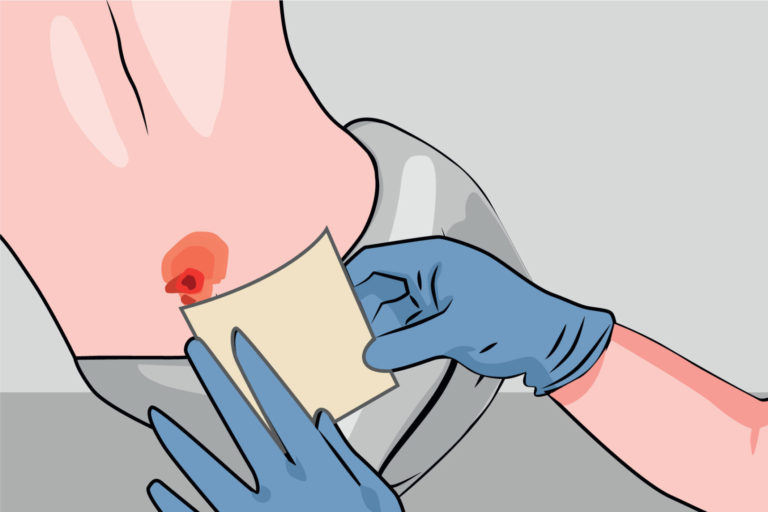 Secure the dressing in place with tape. It should be medically prescribed and approved by your doctor.
It is advisable to consult your doctor for queries specific to your case as variations in the procedure can come about with co-ailments. This set of instructions stands as a mere framework to guide a layperson tending to a wound without diagnosed complications.
#woundcare #woundhealing #diabetes #healthcare #woundcareclinic #diabeticfoot #woundspecialists #chronicillness #advancedwoundcare #maxiocel #homecare
Disclaimer: Issued in public interest by Axio Biosolutions Private Limited. Kindly check the official guidance on WHO for more information on infection prevention and control of COVID-19.