Healthy Pets

Happy Parents
Complete Wound Management For Pets.
SureKlot is a range of bleeding control and wound recovery products for all animals like dogs, cats, horses, cows, and more. SureKlot products contain chitosan, a biomaterial that has haemostatic and wound healing properties. SureKlot products are efficient non-toxic and biocompatible. Our product range includes rapid action Wound Spray, Wound Powder, Gauze and a Patch for controlling severe bleeding for veterinary.  
SureKlot is a complete haemostatic first aid solution for animals to stop mild to severe bleeding instantly and is available in both, patch and powder form. SureKlot is made up of 100% Chitosan and works on unique mechanism which is based on Mucoadhesion to blood and tissues and is non-toxic in nature. This has been proven to be more efficient and faster than conventional dressings and can be removed painlessly with saline or water.
Controls Bleeding from Cuts & Bruises | Arterial & Venous Bleeding | Severe Injuries
Rapid Action Wound Powder
For Open Cuts | Surface Wounds | Granulated  Tissue | Proud Flesh & Capillary Bleeding
Wound Cleansing | Rinsing & Disinfection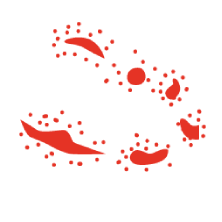 For Infected Wounds | Abscesses | Bite Wounds | Surgical Wounds & Cuts
Patch/Gauze: Controls Bleeding from Cuts & Bruises | Arterial & Venous Bleeding | Severe Injuries
Powder: For Open Cuts | Surface Wounds | Granulated  Tissue | Proud Flesh & Capillary Bleeding
Spray: For Infected Wounds | Abscesses | Bite Wounds | Surgical Wounds & Cuts
Composition
Biopolymer
Technology
Protonated Bioadhesive Technology (PBT™)
Mechanism
Mucoadhesion due to charge
Type

Patch/Gauze – Sponge, Natural Polymer
Powder – Porous Macroparticles
Spray – Biopolymeric Solution

Flexibility
Very flexible, active on all sides
Sterility
Sterilized using Gamma irradiation
Shelf Life
Patch, Gauze, & Powder – 5 Years
Spray – 2 Years
Removal
Irrigate with Saline/Water
Side Effects
None
Implant
No
Biocompatible
Yes
Tear open the pack, apply SureKlot on the bleeding wound and give  pressure until it sticks
To remove, Irrigate SureKlot with  plenty of water or saline and gently peel it off
Patch for Moderate to Severe Bleeding.
Gauze for Minor Bleeding & Wound Management
Peel open the pouch and take the powder vial
Pour the powder on the wound and apply pressure if the wound is bleeding
Apply secondary dressing if required
To remove, irrigate with plenty of saline/water
SureKlot Powder for Rapid Wound Recovery
Flush the wound with an ample amount of SureKlot spray for cleansing and rinsing.
For heavily contaminated wounds, cover the wound with SureKlot spray for 10-15 minutes
* For best results, use along with Sureklot powder and Sureklot gauze
SureKlot Spray for Wound Cleansing, Moisturising & Decontamination
Dr. Jayati Kulkarni (B.V.Sc. & A.H)
Anubhuti Pet Care, Ahmedabad, Gujarat, India
Dr. Kishor Transadiya (B.V.Sc & AH)
Veterinary Surgeon, Pet Plus Hospital, Ahmedabad, Gujrat, India
Dr. Tina Giri (B.V.Sc & AH)
Tina Giri's Vet Clinic, Ahmedabad, Gujrat, India